Websites
Trusted Resources

www.donconnelly.com
Don is the master teacher to anyone in the advisory business.  He is a consummate storyteller, coach, and trusted friend.  Bring Don into your life and you and your clients will be changed for the better.
www.intersectconsultingllc.com
Dr. Bob Seaberg brings three decades of working with advisors and advisory firms to maximize client impact.  He is a gifted teacher, wise mentor, and friend to anyone who wants to move their practice from ordinary to exceptional.
Bestselling author of Give and Take and now Originals, Wharton professor Dr. Adam Grant has his mind and heart around the power of generosity and why givers enjoy a level of success takers never understand or experience.  These are must-read books for anyone wanting to grow a transformational practice.
University of Houston professor of Sociology Dr. Brene Brown has changed the conversation about human nature and owning our story and facing our weaknesses changes how we see ourselves and others.  Her TED talk "The Power of Vulnerability" is an experience you will re-visit again and again.
Care Partners


www.caringinfo.com
The National Hospice and Palliative Care Organization hosts this site dedicated to providing helpful information to individuals and families dealing with life-ending illness.  This site also has click-through where you can download a state-specific advance directive should you or those you serve have the need to execute this important document.
The American Association of Pastoral Counselors hosts this site that includes a Quick Link to "Find a Counselor" who meets their rigorous standards of certification.  In my years of working with individuals and families, I have found AAPC members to be men and women who understand the human journey while being advocates for healing.
The Arts


www.metopera.org
Kathie and I have found The Metropolitan Opera in New York City to be one of our new and wondrous experiences.  The music, costumes, story, and setting are unlike any venue in the world.  Take the plunge and enjoy an evening you will never forget.
Bookmark this site to find tickets to Broadway shows, plays, and concerts.  When we go to the City, we go here to find show times and purchase tickets.
Fun Places


www.wtso.com
I confess that Kathie and I are wine aficionados who believe a great bottle of wine does not have to cost a small fortune.  Wines 'Til Sold Out offers great bargains on many quality white and red wines.  In general, if you purchase 4 bottles, shipping is free not to mention there may be no sales tax.  Sign up and look for their occasional marathons where the prices are even lower.
A fine automatic wrist watch is a human creation unlike any other.  If you are in the market for a timepiece that you will want to pass on to the next generation, you will find excellent reviews of fine watches spanning a wide range of prices by Robert-Jan Broer and his team.
The site is all about creating a playlist of music tailored to your tastes.  If music is wired into your soul, Pandora is for you.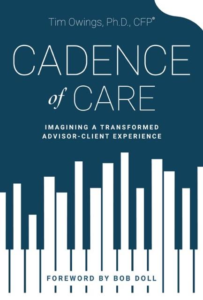 A clarion call to lead with purpose, Cadence of Care offers a wise and practical guide to deepening and enriching client relationships.
-Robert B. Seaberg, Ph.D. Intersect Consulting, LLC


Tim Owings understands what all the great ones know. People who trust you are far more important than all the product knowledge in the world.
-Don Connelly
Don Connelly Associates



The concepts Tim Owings shares in his book provide a comprehensive blueprint to integrate into practice.
-Marc D. Miller, Ph.D., Dean of the School of Business, Henderson State University