---

In Cadence of Care, Tim Owings, Ph.D., CFP® illustrates a new model for client care mined from his 25 years as an ordained minister.  Using compelling stories from his dynamic background, Owings shows how an individual's keen awareness of human behavior can create deeper more meaningful interpersonal experiences.
Professionals who integrate into their work the imaginative concepts depicted in this book will deepen relationships, find greater job satisfaction, and grow their business.  When a person believes somebody "gets it," they readily tell others.  Put your finger on the pulse of each client's need to be validated and discover an innovative way to transform your practice and your life.  
CADENCE OF CARE
Imagining a Transformed Advisor-Client Experience


Should financial advisors have the same relationship with their clients as clergy have with their parishioners? The answer is a resounding "yes!" The concepts Tim Owings shares in his book provide a comprehensive blueprint to integrate into practice that same level of pastoral care and compassion. Helping someone achieve financial stability at various stages in life requires not only a knowledge of risk tolerance and rates of return but also a focused understanding of an individual's needs and vulnerabilities. I believe the insights gleaned from Cadence of Care will instill in financial advisors a greater sense of awareness in meeting the goals and aspirations of their clients.
Marc D. Miller, Ph.D.
Dean of The School of Business, Henderson State University

Tim Owings' wisdom and compassion jump off the page in his powerful book, Cadence of Care. In a rigorous, entertaining manner, he leads us through the labyrinth of relationships accompanying the complex role of being a trusted adviser. In my thirty years of vibrant friendship with him I have come to know him well. He is loyal in the crunch times, virtuoso with words and music, empathetic in the tragic times, and trustworthy every single day. All of that and more is presented in this volume, amplified by the most remarkable "to do" lists for being your best. Read it and take notes-you will be glad you did!
Bill Curry
Author , Ten Men You Meet in the Huddle

Once again, Tim Owings has taken the words of the English language and the incredible heart of a servant and blended them together to create a presence in someone's life while managing the business side with care and compassion. Cadence of Care captures the stunning roadmap of caring for clients from the financial element to the emotional realities that create a lifetime partnership. Right on target!
Charlene P. Sizemore, President
Workforce Capital, LLC

When our interpersonal worlds collide we often attempt to separate events into categories. But the reality is that we experience life holistically: mind, body, and spirit. Tim Owings does a masterful job demonstrating the need for understanding human relationships and applying those principles to business and life. Cadence of Care serves as a guide to the journey, filled with practical suggestions and moving illustrations. It is a must read for anyone who serves as advisor to others.
Jeffery Flowers, D.Min.
Director of Pastoral Care and Counseling Augusta University Health System

It is very rare when I discover that a deeply talented friend is also a brilliant writer. Such is the case with Tim Owings. On almost every page of this book, there is a brilliant insight. So many "takeaways". Not to be missed.
Major General Perry M. Smith,(RET.)
Author, Rules and Tools for Leaders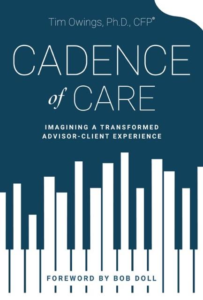 A clarion call to lead with purpose, Cadence of Care offers a wise and practical guide to deepening and enriching client relationships.
-Robert B. Seaberg, Ph.D. Intersect Consulting, LLC


Tim Owings understands what all the great ones know. People who trust you are far more important than all the product knowledge in the world.
-Don Connelly
Don Connelly Associates



The concepts Tim Owings shares in his book provide a comprehensive blueprint to integrate into practice.
-Marc D. Miller, Ph.D., Dean of the School of Business, Henderson State University