Reading List

Anthony, Mitch and Scott West.  Storyselling for Financial Advisors: How Top Producers _ Sell.  Dearborn Financial Publishing, 2000.
Blanchard, Kenneth and S. Truett Cathy.  The Generosity Factor: Discover the Joy of Giving Your Time, Talent, and Treasure.  Zondervan, 2002.
Bolles, Richard.  What Color Is Your Parachute 2016?  Random House, 2015.
Broughton, Philip Delves.  The Art of the Sale.  Penguin Books, 2008.
Buber, Martin.  I and Thou. Walter Kaufmann, trans. Touchstone, 1970
Buechner, Frederick.  Wishful Thinking: A Seeker's ABC. HarperOne, 1993.
Buford, Bob.  Halftime: Changing Your Gameplan from Success to Significance.  HarperCollins, 2011.
Carnegie, Dale.  How to Win Friends and Influence People.  Rev. Sub Edition.  Simon and Schuster, 1981.
Carson, Ron.  Tested in the Trenches: A 9-Step Plan for Building and Sustaining a _ Million-Dollar Financial Services Practice.  Dearborn Trade Publications, 2005.
Curry, Bill.  Ten Men You Meet in the Huddle: Lessons from a Football Life. Random House, 2009.
Doidge, Norman.  The Brain That Changes Itself: Stories of Personal Triumph from the _ Frontiers of Brain Science. Penguin Books, 2007.
Ferrazzi, Keith.  Never Eat Alone: And Other Secrets to Success, One Relationship at a Time.  Currency-Doubleday, 2005.
Frankl, Victor.  Man's Search for Meaning.  Boston: Beacon Press, 2006.
Grant, Adam.  Give and Take: Why Helping Others Drives Our Success.  Penguin Books, 2013.
Iyengar, Sheena.  The Art of Choosing.  Hachette Book Group, 2010.
Kubler-Ross, Elizabeth.  On Death and Dying. Reprint Edition.  Simon & Schuster, 2011.
 Murchison, Rodger.  Guide for Grief.  David Crum Media, 2012.
Murray, Nick.  The New Financial Advisor.  2001.
Ong, Walter.  Orality to Literacy. Rutledge, 1982.
Owings, Tim. Cadence of Care: Imagining a Transformed Advisor-Client Experience. Stroud & Hall, 2016.
Peale, Norman Vincent.  The Power of Positive Thinking.  New York: Prentice-Hall, 1952.
Rich, Matthew K.  A Week from Next Tuesday.  Wipf & Stock, 2013.
Smith, Perry M. and Jeffrey W. Foley.  Rules and Tools for Leaders: From Developing Your Own Skills to Running Organizations of Any Size.  Penguin Group, 2013.   
Vessenes, Peter.  Building a Multi-Million Dollar Practice.  Dearborn Trade Publications, 2005.
Westberg, Granger E. Good Grief.  50th Anniversary Edition.  Fortress Press, 2010.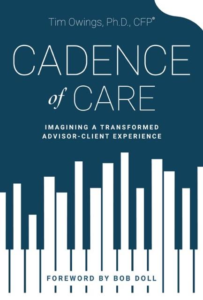 A clarion call to lead with purpose, Cadence of Care offers a wise and practical guide to deepening and enriching client relationships.
-Robert B. Seaberg, Ph.D. Intersect Consulting, LLC


Tim Owings understands what all the great ones know. People who trust you are far more important than all the product knowledge in the world.
-Don Connelly
Don Connelly Associates



The concepts Tim Owings shares in his book provide a comprehensive blueprint to integrate into practice.
-Marc D. Miller, Ph.D., Dean of the School of Business, Henderson State University