At TL Owings & Associates, LLC, our first priority is assessing your group's core learning needs in order to recommend tailored training and ongoing counsel. To accomplish that, we develop a seminar or training curriculum that addresses specific client care issues germane to your company, specialty, or group. In addition, the following three seminars can be linked for an entire day's training.

"An excellent whole-brain advisor, Tim is perhaps uniquely qualified to address all aspects of the client relationship, given his training and practice as a pastor, financial advisor, and teacher."
– Bob Doll, Nuveen Asset Management

Why Our Stories Matter
The financial services industry is full of men and women who advise but know little about their clients.  Relegated to practice management, they often overlook an essential element of client management—getting to know the stories that influence their collective decisions. Tim offers participants a unique perspective on client care during this 90-minute seminar.  He will challenge guests to reflect on what they have learned about themselves and their clients and how those revelations influence how they relate to and connect with those they serve.  Using elements from his Advisor-Client Conversation Guide, attendees will leave with a heightened empathy toward others and a greater sense of self.


THE THREE L's
LANGUAGE | LISTENING | LEARNING
Drawing from action steps in his ground-breaking bestseller, Tim introduces participants to an uncommon approach to client care. Language, listening and learning set the framework for an interactive 90 minutes of inspiration and heightened awareness.
– Language
Language moves between the left and right brain. In the financial services business, the temptation is to use the left cerebral hemisphere exclusively. During this revealing segment, Tim teaches you to add to your advisory catalog textured right-brained pictures that place the client's story in the middle of the scene.
– Listening
Listening's gift measures its beat in every phase of care-centric professions. Focused listening is a gateway to effective communication. How do you interpret a client's unspoken messages? Tim shows you how.
– Learning
This self-assessment is a core advisory competency. The best lessons are experiential; clients' perspectives mirror our own on the journey of discovery.  During this module, we will encourage you to be a life-long student of yourself and your client.

Advising Through Loss
Life and loss are inseparable, woven into the core fabric of what it means to be human. Drawing from his celebrated book, Cadence of Care, in this 90-minute seminar, Tim gives participants tools to recognize loss and grief, naming the ten significant losses common to life and how to navigate the client relationship through each phase. Using case studies and table-team conversation, attendees first learn how to recognize active and stealth grief in their own lives. This necessary first step lays a foundation for helping clients recognize how unnamed and buried grief can cripple relationships and decision-making.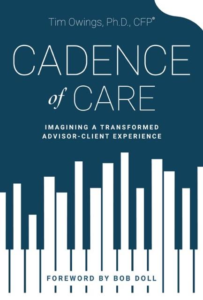 A clarion call to lead with purpose, Cadence of Care offers a wise and practical guide to deepening and enriching client relationships.
-Robert B. Seaberg, Ph.D. Intersect Consulting, LLC


Tim Owings understands what all the great ones know. People who trust you are far more important than all the product knowledge in the world.
-Don Connelly
Don Connelly Associates



The concepts Tim Owings shares in his book provide a comprehensive blueprint to integrate into practice.
-Marc D. Miller, Ph.D., Dean of the School of Business, Henderson State University