Meet Tim Owings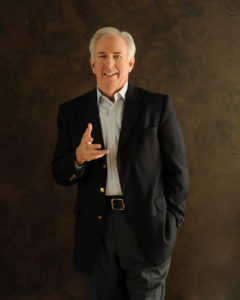 After nearly 25 years serving as senior pastor to five congregations, 2003 found Tim Owings re-inventing his professional life.  Stepping away from two and a half decades of active pastoral work was not easy, but a new beginning was on the horizon.  For the next three years, Dr. Owings spent time as a financial stewardship consultant with RSI of Dallas, TX. In that role, he worked with congregations and non-profits across the country raising capital funds for building projects and ministry expansion.  In 2007, he joined Smith Barney as a Financial Advisor, obtaining the CERTIFIED FINANCIAL PLANNER™ designation in 2011. Tim retired from Morgan Stanley the end of June 2021.
Having worked with men and women, families and business owners who face challenging personal problems, Tim offers a unique approach that teaches advisors how best to understand and support their clients.  Merging his pastoral training and experience with the work of an advisor, he brings a fresh approach to creating transforming advisor-client relationships. What began as an intranet blog, blossomed into the publication of his groundbreaking book Cadence of Care: Imagining a Transformed Advisor-Client Experience. The President of TL Owings & Associates, LLC, Tim speaks to the deep need advisor face as they build connective relational tissue with clients in the age of robo-everything.
A native of Miami, Florida, he graduated from Palm Beach Atlantic University and holds the M.Div. and Ph.D. in New Testament Literature from The Southern Baptist Theological Seminary in Louisville, Kentucky. After calling Augusta, Georgia home for 29 years,he and his wife Kathie moved to Asheville, North Carolina in 2018.  
The Owings are members of Asheville's First Baptist Church. Devoted parents, they love spending time with their growing family: three adult children, their son-in-law Zack, two daughters-in-law, Rebekah and Sonal, and five awesome grandchildren.  Among Tim's many interests, he enjoys reading widely, writing inspirational essays, and taking in the beautiful Smokey Mountains.  He is a gifted teacher, writer, and student of the human experience. A musician since childhood, you will often find him at the piano creating pop and gospel arrangements.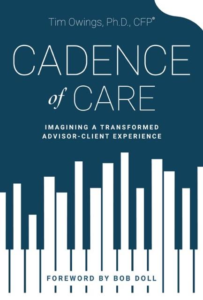 A clarion call to lead with purpose, Cadence of Care offers a wise and practical guide to deepening and enriching client relationships.
-Robert B. Seaberg, Ph.D. Intersect Consulting, LLC


Tim Owings understands what all the great ones know. People who trust you are far more important than all the product knowledge in the world.
-Don Connelly
Don Connelly Associates



The concepts Tim Owings shares in his book provide a comprehensive blueprint to integrate into practice.
-Marc D. Miller, Ph.D., Dean of the School of Business, Henderson State University